Conference Location
Campus of  Brive la Gaillarde


16, rue Jules Vallès 19100 – Brive-la-Gaillarde
Phone : +33 5 55864800
Mail : inmmic2018@unilim.fr
---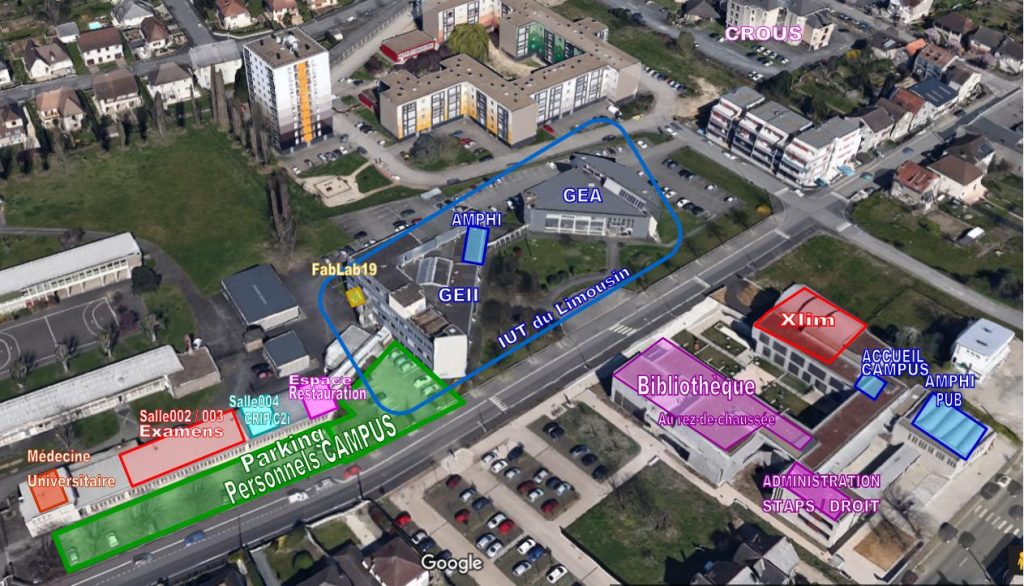 ---
How to get there
BY AIR:
Brive Dordogne Valley Airport Information:
www.aeroport-brive-vallee-dordogne.com
+33 (0)5 55 22 40 00
Airport Connections : ORY, LON, POR, AMS
________________________
BY TRAIN:
Paris Austerlitz station ∼ 4 hours
Bordeaux ∼ 2 hours
Toulouse ∼ 2:30 hours
________________________
BY CAR :
Limoges ∼ 1 hours (90 kms)
Paris ∼ 5 hours (500 kms)
Toulouse ∼ 2 hours (240 kms)
________________________
FROM PARIS CDG AIRPORT TO PARIS AUSTERLITZ STATION :
take RER B towards Châtelet. Change at Gare du Nord to line 5 towards Place d'Italie and exit at Gare d'Austerlitz (∼ 1 hour)
ABOUT XLIM LAB INSTITUTE OF OF TECHNOLOGY
XLIM Lab has an expertise in the domain of electronics and microwaves, optics and photonics, CAD, mathematics, computer sciences and image processing for the application in secured environments, biotechnology and health, energy control and saving. XLIM is a multidisciplinary research institute located on several geographical sites: in Limoges on the sites of ENSIL, Faculté des Sciences et Techniques and Ester-Technopole, in Brive on the site of IUT GEII and in Poitiers on the site of Technopole du Futuroscope. XLIM incorporates more than 440 people among professors, CNRS researchers, engineers, technicians, post-doctoral researchers, PhD students and administrative staff.
For more information, visit the web site of Xlim Lab
ABOUT THE CITY OF BRIVE LA GAILLARDE
Brive-la-Gaillarde has around 50,000 inhabitants. The city is located on the border between Limousin and Périgord. Brive is often referred to as "the laughing gateway to southern France". There is a joy about Brive which can particularly be found in its cuisine. Brive's colourful market place is named after famous French singer Georges Brassens. Brive's old quarters are lined with shops, restaurants and pedestrian streets. The jewel in Brive's crown is The Labenche Museum with several17th century Mortlake tapestries, Debussy's piano, regular exhibitions and seventeen galleries devoted to arts, crafts, natural history and archaeology. The center is very old and has some beautiful old buildings like the Hôtel de Labenche, the Tour des Echevins from the 16th century, the Musée Ernest Rupin, from the time of Louis XIII, and the church of St Martin (12th century). Brive La Gaillarde (the brave one), owes its nickname to the resistance in many sieges. Since 2010 There is a new airport between Brive and Souillac.
For more information, visit the web site of the Brive La Gaillarde Tourist Office